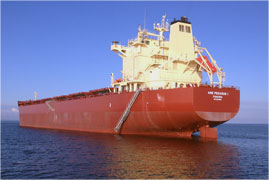 Australian Marine Surveys Pty Ltd was founded in 1996 and provides a first rate surveying, inspection and consultancy service to the shipping industry.
Our company is fully owned by its Directors, having no tied connections to any other interests. We are able to offer a 24 hour response.
The company provides surveying and consultancy services in cargo, nautical and marine engineering spheres, goods quality and quantity inspection, cargo and container damage surveys, P & I Club surveys, Cargo Hold Fitness Survey for Loading Grain and Fertilizers (AQIS Accredited), Steel Surveys. Also provided, are services for the sampling and testing of Petro Chemical/Agricultural products.
At Australian Marine Surveys, we are experienced in handling practical problems that arise when a ship suffers a major casualty and we operate as a member of a crisis response team. Our duties in the field often involve us working with experts in other disciplines.
Australian Marine Surveys have an excellent reputation for quality in the world of Marine Surveying. Our team of surveyors are drawn from all areas of sea-going personnel having experience on various vessel types. With a great number of years of sea-going experience between all Australian Maritime Surveys surveyors, there exists a wealth of knowledge on which to draw.